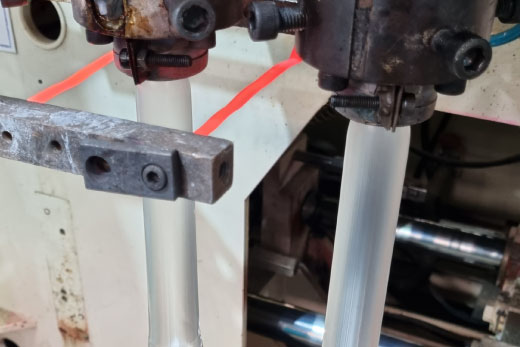 Extrusion blow moulding
Extrusion Blow Moulding is the simplest type of blow moulding. A hot tube of plastic material is dropped from an extruder and captured in a water cooled mould. Once the moulds are closed, air is injected through the top or the neck of the container, just as if one were blowing up a balloon.
When the hot plastic material is blown up and touches the walls of the mould the material "freezes" and the container now maintains its rigid shape. Extrusion Blow moulding allows for a wide variety of container shapes sizes and neck openings, as well as the production of containers with handles.
Schaldor Plastics can produce containers in HDPE and polyprop. Our machines are capable of producing pharmaceutical grade containers in small to large sizes. The containers can also be used to hold chemicals and pesticides. We are also able to create custom container shapes for our customers' specific container needs.
Injection Blow Moulding
Injection blow moulding is part injection moulding and part blow moulding. Injection blow moulding is generally suitable for smaller containers. Containers that need handles cannot be made with this process.
Injection blow moulding is a three stage process and involves injecting plastic into a preform where it is transferred to a mould. Air is then blown into this preform to force the plastic to take the shape of the form in the mould.
Schaldor Plastics can produce a high volume of injection blow moulded containers on a daily basis. We can produce injection blow moulded containers in HDPE and polyprop. We can make small- to medium-sized containers to suit your requirements.
Caps
Schaldor Plastics is able to supply a wide range of caps and closures for our containers. These range from standard caps used for everyday applications to pharmaceutical and chemical grade caps. We also supply caps to fit containers used in the automotive industry.
All of our caps can be made to fit customised bottle and container necks for use in various industries. At Schaldor Plastics, our caps are made with the same high standards of quality as our containers so that our customers can rest assured that their caps and containers will last the same amount of time.
Silk Screening
Schaldor Plastics offers a screen printing service for our bottles and containers. Our printing utilises UV ink of the highest quality and clarity. Bottle printing is a great way to expand your company•s brand awareness.
In Mould Labelling
IML is an In Mould Labelling process where your label gets moulded into the bottle when blowing the bottle this is a more cost effective way of having your bottle already labelled so the customer can just fill and don't have to still buy labels and pay someone to put the labels on or have a machine putting the labels on. The label is also made of a plastic material called Yupo that does not contain any adhesive glue and is fully recyclable.